Winter Thunder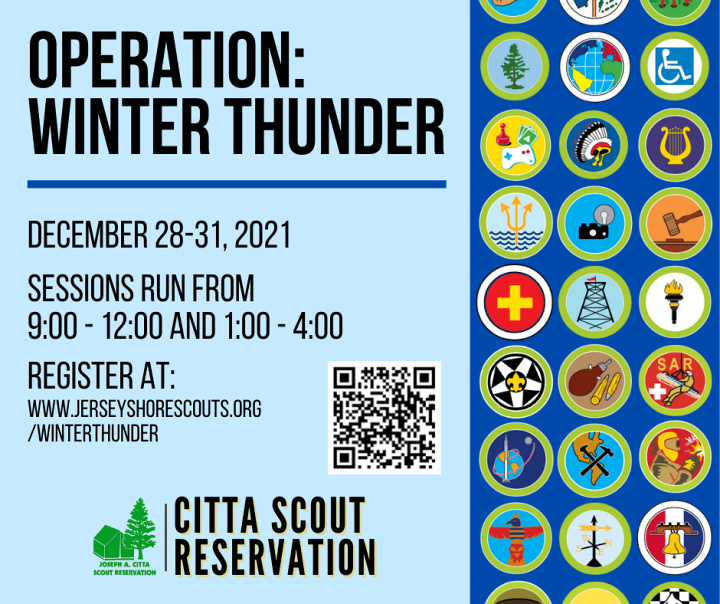 Winter Thunder 2021
Tuesday, December 28 - Friday, December 31
Citta is proud to offer a cure for winter vacation cabin fever with Winter Thunder!
A unique winter activity hosted by the CSR Summer Camp Staff and invited guest presenters. It will run as a three day program at the Joseph Citta Scout Reservation!! Most merit badges will be 3 hours in duration either in the morning or the afternoon. Session One is 9am-12noon, Session Two is 1pm-3pm. Some Merit Badges may require all day both periods!!
Please note: This is a day event only and there will not be overnight registration for Winter Thunder.
MERIT BADGES OFFERED:
Automotive Maintenance, Citizenship in the World, First Aid, Public Speaking, Woodcarving, Chemistry, Chess, Rifle Shooting, Space Exploration, Basketry, Disabilities Awareness, Music, Pioneering, Welding, Emergency Preparedness, Oceanography, Photography, American Heritage, Game Design, Weather, Forestry, Wilderness Survival, Citizenship in the Nation, Geology, Indian Lore, Archery, and Shotgun Shooting
****Merit Badges updated! Shotgun and Archery have been added!!****
Winter Thunder offers the most fun that we can cram into a day!!
Payment Options:
Check- Please make checks payable to Jersey Shore Council at 1518 Ridgeway Rd. Toms River, NJ 08755. Payments should be received at Jersey Shore Council two weeks before the reservation date and will be entered into your account on the website.
Credit/Debit Cards- Effective December 1, 2021, all credit, debit card, and echeck purchases will be charged a 5% transaction fee.
Cash- Cash is accepted at our council offices in Galloway (500 East Fairway Lane Galloway, NJ 08205) or Toms River (1518 Ridgeway Rd. Toms River, NJ 08755). Your payment will be entered into your account on the website.
Transportation: Parents/ guardians provide transportation to and from camp.
BSA Health Form: Parts A (Parent Consent and Release) and Part B (Health History) required.
Some merit badges have pre-requisites that must be completed prior to taking the badge.
Some merit badges require purchase of program supplies. A fee will be charged at registration and supplies will be provided.
BSA Health Form - see below
Acknowledge of Risk Form - see below
Lunch
Medication – if prescription required administration during camp program hours.
Any prerequisite materials for selected merit badges
Scout Spirit and enthusiasm
Note on Scout Uniform – Scouts are not required to wear official Class A Scout uniform. Scouts are encouraged to wear a Class B (or "Scouting appropriate" shirt if possible).
Raingear – as appropriate for conditions
Feel free to contact Frank Bopp at frank.bopp@scouting.org if you have any questions.
| File Name | Description | |
| --- | --- | --- |
| 2022 Winter Thunder MB Prerequisites | | Download |