Virtual Winter STEM Program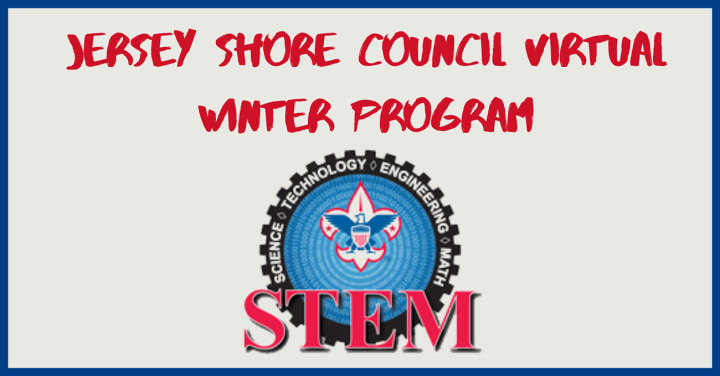 Cub Scout Program
Two STEM related adventures/ activities given each month along with several resources on how to complete them at home from mid January to March!
Optional monthly live meetings with seasoned leaders on how to best complete the adventures each month
Scouts BSA Program
Two STEM related scout skills and/or requirements given each month along with several resources on how to complete them at home from mid January to March!
Optional monthly live meetings with seasoned leaders on how to best complete the adventures each month
Open to Both Programs
Cub Scouts and Scouts BSA signed up are invited to participate in these supplemental programs as well.
Jersey Shore Council Winter Scouting Award:

Everyone will have a chance to earn if they complete all 6 adventures outlined for your rank.
Patch will be mailed to youth at the end of the program

Live Meetings with Dynamic Speakers

These speakers may connect to requirements or may just be something interesting about our area!
Confirmed organizations include:

Federal Aviation Administration- Find out how the the FAA keeps our planes safe!
Atlantic County Utilities Authority- Find out how this Authority protects waters and lands from pollution by providing responsible waste management services!

Minecraft Competitions

All scouts invited to a virtual Boy Scout Camp for various competition such as archery and fishing.
Camping related prizes given out for 3 top award winners!
Dates and Details
Cost- Jan 15, 2021 is the deadline to signup

$20- Jersey Shore Council Scouts
$30-Out of Council Scouts

Program to occur from mid January to March
Web links and other program information will be emailed directly to participants