Joshua Huddy District
The Joshua Huddy District serves the following towns: Bricktown, Jackson, Lakewood, Point Pleasant and Toms River.
Upcoming Meetings Schedule:
Joshua Huddy Round Table - March 4, 2020
This Month our Virtual Meeting will be held via Facebook Live.
You will be able to log in from the Joshua Huddy District Facebook Page - you MUST be following the Joshua Huddy Facebook Page to watch us LIVE.
The Meeting will be on March 4, 2020 at 7 p.m. That is the first Wednesday of March. Want to join us in person? Check back here for our meeting location! Do you have an exciting Pack or Troop activity that you would like to showcase at Roundtable? Do you want to show off your meeting place? Let us know and we can bring the Roundtable to you! If you choose to attend in person, we do ask that you please gather by 6:50 pm so we can get everyone settled in before we GO LIVE! We thank our past hosts for generously donating space for our District Roundtable meeting.
Please make every effort to have at least one representative from your unit log in to the meeting or drop in. There will be a lot of information shared that evening, so please make every effort to participate.
The roundtable meets once a month. The district roundtable is a meeting to provide the following for the full family of Scouting units:
Skills, techniques, information, program ideas—the know-how that makes for successful unit operation.
To provide unit leadership with the will to do—the morale, enthusiasm, inspiration, and vision that periodically renew the desire to serve youth.
• We are inviting guest speakers to share their expertise on our rich Scouting experiences. Please contact Sharon McKenna, District Executive, to discuss what topic is in your area of expertise.

District Committee and Commissioners Meeting: Monday March 9, 2020
The District Committee/Commissioners Meetings are held on the SECOND MONDAY of the month 6:30 - 8 pm at the Save Barnegat Bay Ecocenter at 117 Haines Road in Toms River. Please make every effort to have at least one representative from your unit attend this meeting! If you have any suggestions for these meetings, please contact Sharon McKenna, Joshua Huddy District Executive.
District Committee Vacancies. The nominating committee has offered up some quality names for some key positions. These include District Chair, Cub Scout Recruitment Chair, Community FOS Chair. The District Committee wire chart was emailed to all District Committee and Commission members with vacancies noted. If you have an interest, let your District Executive know!
Program Update
University of Scouting - March 7, 2020. This free leader training is an outstanding opportunity to serve your Scouts because every Scout deserves a trained leader. Check the council webpage for more information.
.Area 5 Leadership Lab (formerly JTE conference) - March 21, 2020. Registration is open for the Area 5 Leadership Lab. It will be held on March 21 at Raritan Valley Community College. For $33 you get a wide range of classes that cover many important Scout topics. Register at www.colbsa.org/area5 including the promotional flier, course catalog and course schedule.
27th Annual Wood Badge Dine-in - March 26, 2020. All current participants, past Wood Badgers and their significant others are invited to attend this grand feat full of fun and fellowship. Register online: www.jerseyshorescouts.org/woodbadgedinein
Joshua Huddy District Pinewood Derby - March 28, 2020. The top 5 racers from each Rank from Each Pack are invited to this year's Joshua Huddy District Pinewood Derby! ALL Lions are welcome - they will race their own car! No car builds at race this year! *** VENUE CHANGE: Old Bridge High School 346 Chambersbridge Road Brick, NJ 08723
Seabase High Adventure trek 2020 - August 15-21, 2020. The first deposit cut-off was 1/15 but the $250 can be paid ASAP with registration. There is one yacht, seven slots, two must be adults, there can be up to four adults maximum. This is an excellent opportunity for high adventure so do not delay if you have an interest. It runs from August 15, 2020 to August 21 and the $1,900 can be paid in increments.
Spring Merit Badge Couselor Training - April 4, 2020. Registration is open for this course, which is to train merit badge counselors how to properly work with Scouts on merit badges. Check the council webpage for more information.
Cub Scout Specific Training - April 4, 2020. This course will provide Cub Masters with the information and tools they need to successfully lead the Pack and Pack committees to run successful Pack operations. Check the council webpage for more information.
Friends of Scouting (FOS) Update: Joshua Huddy units have 57% of our Friends of Scouting presentations scheduled. If your unit has not yet scheduled the FOS presentation, please get your dates to District Executive Sharon McKenna at sharon.mckenna@scouting.org. If you have questions about what FOS does for the units of the Jersey Shore Council, we have got answers! A big shout out to our ten trained FOS presenters for volunteering their time and Scouting experiences to reach our goals.
Update Youth Protection Training - All leaders need to take the new YPT training.
We are proud of our District's first Scouts-BSA Troop 402 in Jackson NJ - Contact Chris Burgess at chrisburgess48@gmail.com
Congratulations to Scouts BSA Troops recently formed:
Troop 39-GT in Brick - Contact Dolores Oswald at doswald@sftp.com
Troop 600 in Point Pleasant - Contact Tracy James at markandtracyjames@gmail.com
Family Scouting provides a great opportunity for youth throughout our council!
PACKS ACCEPTING GIRLS IN THE JOSHUA HUDDY DISTRICT OF OCEAN COUNTY
Pack 6 Pt. Pleasant NJ
Pack 28 Jackson NJ
Pack 29 Toms River NJ
Pack 34 Jackson NJ
Pack 36 Toms River
Pack 38 Brick NJ
Pack 39 Brick NJ
Pack 47 Brick NJ
Pack 62 Toms River NJ
Pack 175 Toms River NJ
District Committee Volunteers
The district committee meets the 2nd MONDAY of the month. The district committee is a group of volunteers that serves the local units within the district. The committee is broken into several sub committees which include advancement, training, activities, unit service, membership, camping, and fundraising. The district is always looking for help in any of these areas and has roles that can fit anyone's schedule and skill set.
District Commissioner Staff
The commissioner staff meets once a month and focus on the following four primary areas:
Supporting unit growth in the Journey to Excellence criteria

Linking district committee resources to the unit

Visiting units and logging the visits into the Unit Visit Tracking System (UVTS)

Supporting on-time charter renewal
A commissioner plays several roles, including friend, representative, unit "doctor," teacher, and counselor.
The commissioner is a friend of the unit. Of all their roles, this one is the most important. It springs from the attitude, "I care, I am here to help, what can I do for you?"
The commissioner is a representative. The commissioner helps represent the ideals, the principles, and the policies of the Scouting movement.
The commissioner is a unit "doctor." In their role as "doctor," they try to see that their units make good "health practices" a way of life. When problems arise, they act quickly.
The commissioner is a teacher. As a commissioner, they will have a wonderful opportunity to participate in the growth of unit leaders by sharing knowledge with them.
The commissioner is a counselor. As a Scouting counselor, they will help units solve their own problems. Everyone needs counseling from time to time, even experienced leaders.
If you are interested in volunteering as a commissioner, please contact Scott Ireland.
Please look into the Trinity Solar Stewardship Program for a great fundraising opportunity for your unit and your Joshua Huddy district.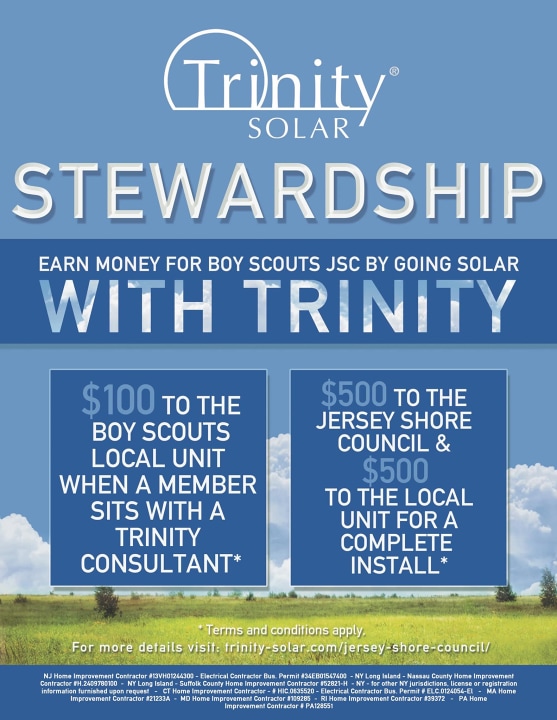 | File Name | Description | |
| --- | --- | --- |
| 2019 Six Flags Camporee Registration Form.pdf | | Download |
| Eagle Scout Dignitaries List.docx | | Download |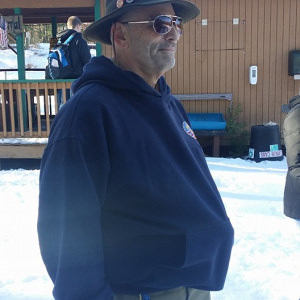 Joshua Huddy District Commissoner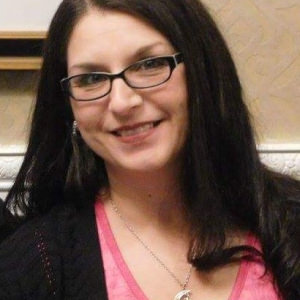 District Executive
(732) 233-1757