Homecoming 2022 Citta Alumni Day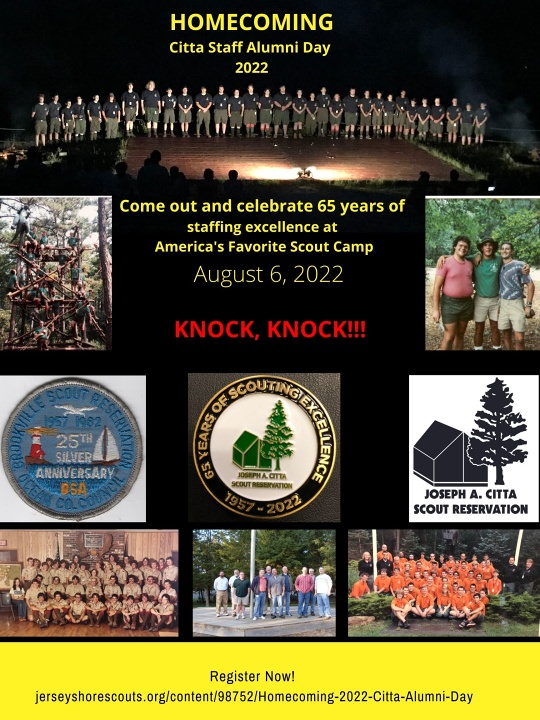 HOMECOMING 2022
CITTA STAFF ALUMNI DAY
Have you been looking for a way to relive a moment of your youth?
Looking to see friends you haven't seen in ages?
HERE'S YOUR CHANCE!
Join us for our inaugural Homecoming celebration, celebrating 65 years of staffing and scouting excellence at America's Favorite Scout Camp! There will be a lot going on at camp for you to see and try out. (A lot may have changed since the last time you were here). We're going to open our 3D Archery range and the Shotgun range. The zipline will be open for those of us who like heights, and word is there may be a knot tying contest for all the Scoutcraft staffers out there (Or anyone else who wants to test their skills). We're going to have a BBQ dinner at the beautiful Bisch Rotary Dining Hall and maybe a campfire where we can all relive our days at camp with our favorite skits and songs. Of course, there will also be plenty of time to wander around camp and reminisce. To answer the all important question, YES, the trading post will be open so you can get your CSR gear.
We all know what Brookville Scout Reservation and Joseph A Citta Scout Reservation did for us, giving us a place to grow up and become who we are. Why not take a few hours and come on home to the place that built us?
Register by clicking the red registration tab below. You'll need to set up a Tentaroo account to do that, so if anyone needs help, give Frank Bopp a shout. We're asking for $25 to cover food and some swag you get to take home and show your BSR/CSR pride.
You can register online and pay by card, just be aware that a 5% fee applies to all Echeck and credit card purchases. You can pay at the JSC office (1518 Ridgeway road) with cash, check, or card or even stop at the CSR Camp Office and pay there. (Frank likes visitors, so come on down!)
Hope to see you all there. It's been way too long.
CAN'T WAIT....KNOCK KNOCK
HOMECOMING 2022 AGENDA
2:00 CHECK IN AT THE CITTA CENTER
3:00 CLAY SHOOTING AT THE SHOTGUN RANGE
ZIPLINE/FLYING SQUIRREL (COPE)
CAMP TOURS BEGIN
4:30 3D ARCHERY
KNOT TYING COMPETITION (SCOUTCRAFT)
6:00 BBQ DINNER AT THE DINING HALL
Homecoming 2022 Citta Alumni Day August 06, 2022