Camp Cards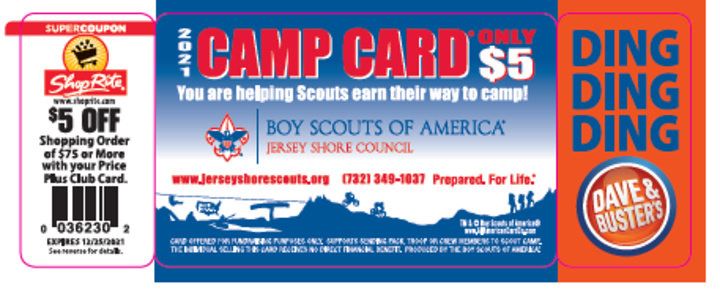 What is a Camp Card?
A Camp Card is a discount booklet that provides the purchasers numerous discounts to restaurants and retailers all through-out the Jersey Shore. The sale begins March 31st and ends May 1st. This program is RISK-FREE, simply return any unsold cards at settlement on or before June 30, 2021.
Why is it called "Camp Card"?
Many units use the Camp Card program as a way for a Scout to earn his or her own way to summer camp. The Camp Card may be used by a unit to help offset fees for a unit trip or many other activities.
What makes the Camp Card a good fundraiser?
Camp Card sale is designed to help Scouts and units earn funds to offset the cost of their Scouting experience. Units participating in this program will earn a 40% commission ($2.00) for each $5 Camp Card they sell.
What is on the card?
ShopRite offers a generous one-time discount which makes the sale of this card a no-brainer. Harbor Freight, Edible Arrangements, Carters, McDonald's, Subway, White Castle and many more have offered special discounts that you can use throughout the year. Take advantage of this partnership to help your Scouts get to camp.
Everyone who buys a card will also receive 10 other online coupons that are local to their area. Coupons are available on all parts of the United States, you simply need the zip code of the area you are in and all the local deals pop up.
Camp Card Incentive Program
For every 50 cards your Scout sells, they will receive 2 additional entries into the grand prize drawing for their choice of voucher for the NEW Playstation 5 or Xbox Series X.
To enter drawing,units must return money and completed Unit Camp Card Tracking Spreadsheet to one of the Council's Service Centers. The winner will be chosen live on Facebook.
Deadline for Grand Prize Drawing: May 30, 2021
Important Dates and Deadlines

| | | |
| --- | --- | --- |
| | Camp Card Sales | March 15- June 30, 2021 |
| | Final Payments Due | June 30, 2021 |
| | Late Payment 30% Unit Commission Rate | July 1, 2021 -July 31,2021 |
| | Late Payment 25% Unit Commission Rate | After August 1,2021 |
New for 2021!
Trails End App: We will be using the Trails End application and website to track all aspects of the sale! Scouts can enter all their sales into the app for historical customer tracking(same as the popcorn sale).
Credit Cards Sales: Scout families can accept credit card for payments through the application. However the credit card fees(3% of transaction) will be charged back to the unit at the end of the sale. Unfortunately Trails End and/or Jersey Shore Council cannot absorb these fees.
Amazon Program: Similar to the popcorn sale, Scouts can earn an amazon gift card at specific sales levels. For every $1 cash sale scout get 1 point, for every credit card sale they get 1.5 points. The first prize level is 500 points. Scouts can also use points from the camp card sale and popcorn sale to get to a higher level. For example if the scout is at 500 points for camp cards and 500 points during the popcorn sale then they would have a 1000 points total.
How do I signup and receive for Camp Cards?
Please have a representative from your unit login into the Trail End website at the button below to request cards. If your unit sells popcorn this is the same unit kernel login you use for the popcorn sale and you do not have to create a new account.
There is a PowerPoint below that explains how to register and request cards. Once approved(requests are approved based off prior sales history) you will be contacted to pickup your cards at the Toms River or Galloway Scout Offices!
| File Name | Description | |
| --- | --- | --- |
| Camp Card Guidebook | Explains how to run successful sale | Download |
| PowerPoint on how to register for camp cards | Shows you step by step directions on how to signup for the sale on TE website | Download |
| Scout Camp Card Receipt | For individual scout use to track sales | Download |
| Unit Camp Card Tracking Spreadsheet | For Unit Camp Card Chairman to track each scout's sales and submit for the prize drawing | Download |