JSC Virtual MB Fair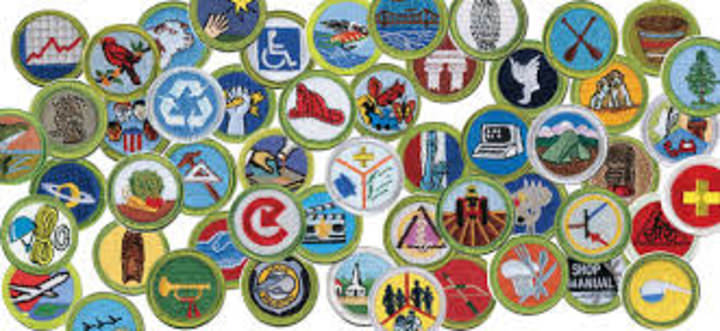 New Classes Added for a Saturday May 23rd Session!!!
Join us in Jersey Shore Council's very first Virtual Merit Badge Fair! There are a total of 25 Merit Badges to choose from. Whether you take Aviation or Genealogy, you'll be one step closer to being an Eagle Scout! Keep checking back for newly added merit badge classes.

Space is limited, so get signed up today! The cost is $5 per merit badge (in council) $10 per merit badge (out of council).
Registration ends May 15th. Meetings links will be sent following the closing of registration and prior to start of class. Please make sure that when registering, include the most current email address.

Duties of Each Scout
Please be sure to download the Merit Badge Fair Booklet below. There is where you can find all the Pre-Req's required for each class.
Scouts must be registered in a Scout BSA (Troop or Crew) to participate.
Each class is 1 hour and 15 mins long unless listed as a double session.
Registered Scouts will be sent the virtual media classroom link via email prior to the class taken.
Registration is done through your individual Tentaroo account.
Each merit badge class will only allow between 10-20 scouts to attend. This varies per class.
Remember some requirements require supervision so ask a parent or counselor about these before you start them. Some additional requirements may not be able to be completed during these classes. Counselors will discuss these requirements and how they can be completed at a later time.
Scouts are expected to come prepared to present / discuss / show the materials needed to complete each requirement.
All Scouts must have received permission (verbally, virtually, or electronically) from the Unit Leader to attend these classes before signing up.
Scouts will be working from the current Merit Badge requirements. A merit badge workbook is not required for this class but may be helpful when answering questions from the counselor. Some of our instructors may suggest using a workbook to help you with the discussions.
Please help us with Scouting's Two Deep Leadership requirement. A parent must be present for the Merit Badge Instruction Classes. You may learn something new too and what you heard might give you and your Scout(s) something new to share and discussion in the crazy world of 'cabin fever' COVID-19
Please review prerequisite assignments closely to be prepared for class expectations. Note that some counselors are requesting that prerequisites be submitted prior to the session in order to make the most of the time spent in the virtual classroom. If so, make sure you use your own Google Classroom account and not your school account. This information will be sent along with class access code.
Any communications between a scout and a counselor must include a parent or other scout leader to comply with BSA Youth Protection policy.
Scouts must attend in Class A Uniform (no troop t-shirts) and Be Prepared with pen/pencil, paper, merit badge booklets, and any other items needed for your badge.
Merit Badge Blue Cards & Scoutbook Tracking
Scouts are recommended to use Scoutbook to track their advancement in these merit badges. This is the easiest method to keep records of these merit badges under the current pandemic. Please be sure to include your BSA number when registering.
To do this, the Scouts must reach out to their unit (Troop or Crew) and have someone add the counselor to their Scoutbook account.
Here is a link to help those unit leaders link the Scout to the merit badge account.: How do I assign merit badge counselors to a Scout?
NOTE: If you/counselor do not want to use Scoutbook, you are welcome to discuss with the Counselor to see how to get the Blue Card to the counselor for signatures/completion approval. You may have to obtain the signed blue card from your Scoutmaster and email it to your counselor. Be sure to have your signed blue card prior to the class. If needed you can find a fillable digital Blue Card here: Digital Blue Card
Merit Badges Still Available
Communications- Saturday May 23rd
Citizenship of the Nation- Saturday May 23rd
Genealogy- Saturday May 23rd
Electricity- Wednesday May 20th
Drafting- Monday May 18th
American Cultures- Saturday May 23rd
2020 JSC Virtual Merit Badge Fair May 23, 2020